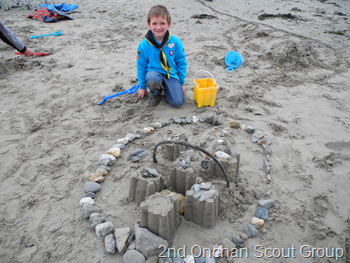 On Saturday, Thursday and Sunday Beavers met with other Colonies on Douglas Beach for a Sandcastle and Marble Run Competition. The aim was to build a sandcastle or a marble run. There were many prize categories, including best sandcastle, best sandcastle by a Beaver, and best decorated sandcastle. There were also prizes for the best marble run and the marble run where the marble ran the furthest.
There were some great displays and Sunday Beavers won a prize for their joint display of sandcastles – very well done. Adam & Torin from Thursday Beavers also won a prize for best decorated sandcastle by a Beaver (that is without any adult assistance) – so well done boys.
Some of the dads seemed to be enjoying the afternoon building sandcastles too!