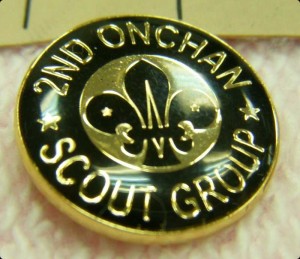 As part of 2nd Onchan's 50th Birthday Celebrations in 2011, the Group has set up a new Award called the Commitment Award.
To gain the Award a Scout must:
Be a member of 2nd Onchan Scout Group as a Scout.
Have been both a Beaver Scout and a Cub Scout (not necessarily in 2nd Onchan).
Have been an Explorer Scout for at least six months.
The Award is a metal Pin Badge and is not an official uniform Badge, but it is hoped that the badge will be worn by our ex members on their Explorer Scout Uniform. It is also intended to be a memento of their time in the Group.
2ND ONCHAN SCOUT GROUP




COMMITMENT AWARD RECIPITENTS

Name
Troop
Awarded
Matthew R.
Phoenix Troop
20. October 2017
Conor C.
Phoenix Troop
20. October 2017
Archie W.
Phoenix Troop
20. October 2017
Adam C.
Phoenix Troop
20. October 2017
Ethan Q.
Phoenix Troop
20. October 2017
Max K.
Phoenix Troop
20. October 2017
Robert R.
Phoenix Troop
20. October 2017
Luke P.
Phoenix Troop
14. October 2016
Joe B.
Phoenix Troop
14. October 2016
Magnus B.
Moddey Dhoo Troop
14. October 2016
Jacob K.
Phoenix Troop
14. October 2016
Thomas C.
Phoenix Troop
17. July 2015
George R.
Moddey Dhoo Troop
12. March 2015
Andrew M.
Moddey Dhoo Troop
12. March 2015
Samuel W.
Moddey Dhoo Troop
12. March 2015
Alex R.
Moddey Dhoo Troop
12. March 2015
Mark O.
Phoenix Troop
17. October 2014
Emma M.
Moddey Dhoo Troop
9. January 2014
Craig H.
Phoenix Troop
20. December 2013
Aaron R.
Phoenix Troop
5. September 2013
Scott R.
Phoenix Troop
5. September 2013
Macklin W.
Phoenix Troop
5. September 2013
Andrew G.
Moddey Dhoo Troop
12. October 2012
Alex C.
Phoenix Troop
19. April 2012
Eliot S.
Phoenix Troop
19. April 2012
Sam B.
Phoenix Troop
16. December 2011
Sam L.
Moddey Dhoo Troop
13. December 2011
Adam E.
Moddey Dhoo Troop
13. December 2011
Alex M.
Moddey Dhoo Troop
24. May 2011
Owen A.
Moddey Dhoo Troop
24. May 2011
Joe H.
Phoenix Troop
6. May 2011
Freddie Q.
Phoenix Troop
29. April 2011
Ryan D.
Pheonix Troop
29. April 2011
George R.
Phoenix Troop
23. April 2011
Daniel P.
Phoenix Troop
23. April 2011