MOVING ON – APRIL 2014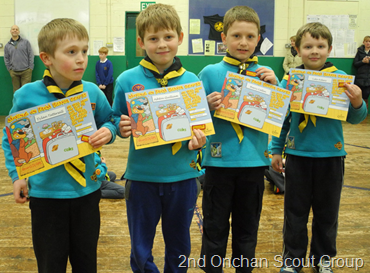 Thursday Beavers have reached the end of yet another term – and that means it is time to say goodbye to our Beavers who are Moving On to Cubs. Luke, Tay, Harry, Dylan and Ashton were all presented with their Moving On certificate and badge. Three of our Beavers are off to Snaefell Cub Pack after Easter, and two are going to Manannan. We will miss them all at Thursday Beavers, but we wish them all the very best in Cubs. Our thanks also to our supportive parents, we will miss you too.
SHIP SHORE CHAMPION SPRING 2014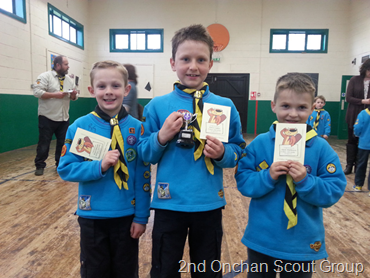 We have just completed our third Ship Shore Competition for the Winter/Spring Term of 2014. Once again the scores were as close as ever. In third place was one of our younger Beavers, who will be challenging for the title in the future – Oscar W. In second place was Ryan, who has finished third in the previous two competitions, and our Ship Shore Champion for Spring 2014, for a second term, is Harry C! All three received a certificate of congratulations and Harry received a small trophy. Well done Harry! Harry is off to Cubs after Easter, so next term there will be a new Ship Shore Champion crowned!
CHIEF SCOUT'S BRONZE AWARD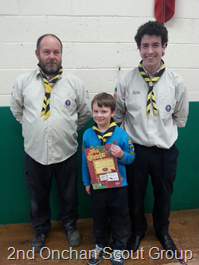 This month we also presented two of our Beavers with their Chief Scout's Bronze Award. Chris, our Snaefell Cub Leader, kindly agreed to come and present the Awards to two of the Beavers who are moving on to Snaefell Cubs after Easter. This is a highly prestigious Award, and can only be achieved by Beavers who have completed all six of their Beaver Scout Challenge Awards (Promise, Friendship, Fitness, Creative, Global and Outdoor). It can take up to two years to complete these challenges and the Beavers have to work hard to make this happen, often completing activities at home when necessary. So our massive congratulations go to Luke and Tay. Many thanks to Chris and very well done boys!