INVESTITURES – 6. February 2014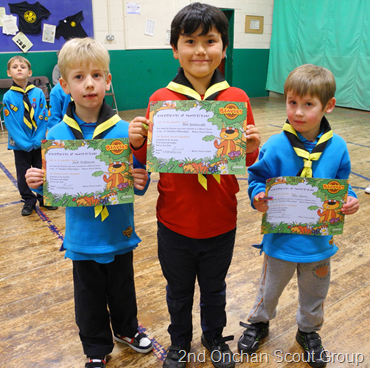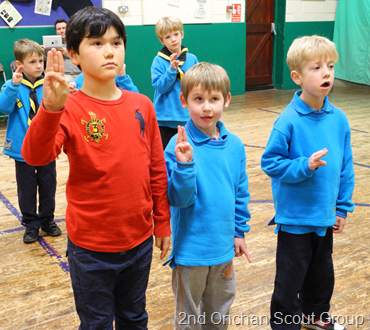 Last week Thursday Beavers welcomed three new Beavers into their Colony – they were Alex H-B., Jack W. and Ben Y. The boys have all settled in very quickly and they were really excited and looking forward to getting invested and receiving their badges and scarves. Welcome to all our new starters – we hope you enjoy your time with Thursday Beavers and 2nd Onchan Scout Group.
DID YOU KNOW? – 13. February 2014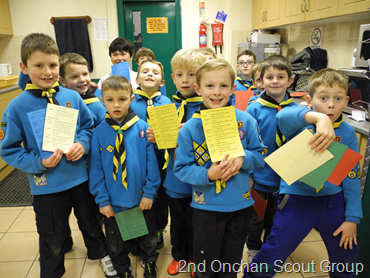 Last night Thursday Beavers put on a short Performance for their parents called Did You Know? The Performance was all about Beavers and Scouting and was a chance for our Beavers to share some interesting facts and information with their parents. The Beavers performed brilliantly, speaking nice and clearly and loudly – Well Done! They also each achieved their Creative Activity Badge.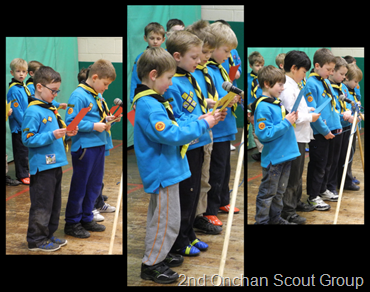 CHIEF SCOUT'S BRONZE AWARD – 13. February 2014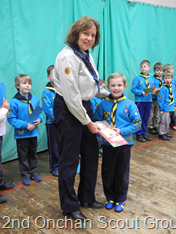 Last night Thursday Beavers had a visit from the Assistant Island Commissioner for Beavers – Big Beaver – Bev Hewson. Bev presented a very special award to Ryan E., who has gained his Chief Scout's Bronze Award. This prestigious Award can only be achieved by Beavers who have completed all six of their Beaver Scout Challenge Awards (Promise, Friendship, Fitness, Creative, Global and Outdoor). It can take up to two years to complete these challenges and Ryan has worked hard to make this happen, completing activities at home when necessary. So massive congratulations go to Ryan and many thanks to Bev for presenting the award.
HOMEWORK – 13. February 2014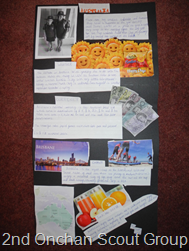 Beavers liked to earn badges and have the opportunity to take part in badge-work activities during our meetings. It is not always possible to complete all the requirements during our meetings and Beavers have the option to do some of the badge-work activities at home. They can do as little or as much as they like. I am always impressed by the effort that Beavers put in to completing their activities and would like to share that with you. Here is some work by Harry C. from Thursday Beavers. Harry had to find out four facts about another country. Harry put together a lovely poster detailing some interesting facts about Australia. Well done Harry!