INVESTITURES
At our last meeting Thursday Beavers welcomed six new Beavers into their Colony – they were Samuel, Colby, Sam, Nicholas, Joseph and Juan. The boys have all settled in very quickly and they were really excited and looking forward to getting invested and receiving their badges and scarves. Welcome to all our new starters – we hope you enjoy your time with Thursday Beavers and 2nd Onchan Scout Group.
CHIEF SCOUT'S BRONZE AWARD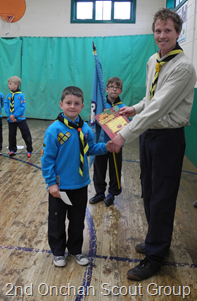 Thursday Beavers had a special visitor on Thursday – Andrew Galka our Cub Scout Leader with Manannan Pack. Andrew joined us to present a very special award to Harry who has gained his Chief Scout's Bronze Award. This prestigious Award can only be achieved by Beavers who have completed all six of their Beaver Scout Challenge Awards (Promise, Friendship, Fitness, Creative, Global and Outdoor). It can take up to two years to complete these challenges. Harry is only just 7 years old and has completed all his Challenges in just under a year at Beavers. Harry has worked hard to make this happen, completing activities at home when necessary. So massive congratulations go to Harry and many thanks to Andrew for presenting the Award.