ST GEORGE'S DAY PARADE, SERVICE & ACTIVITIES – SUNDAY 17 APRIL 2016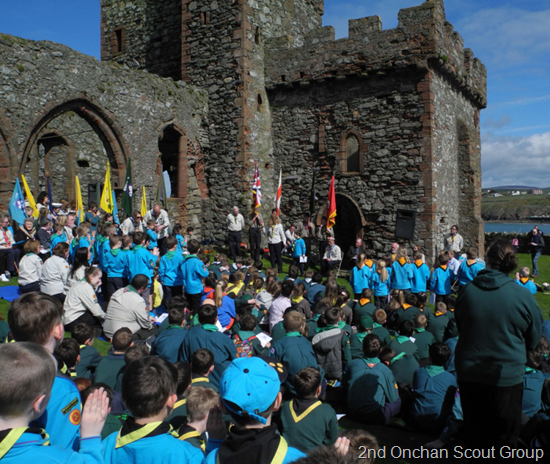 What a fantastic turnout from the Thursday Beavers for this year's St George's Day Parade, Service and Activities – which was held in Peel. Seventeen Thursday Beavers attended the Parade and Service today – 17!! That is a truly fantastic turnout – well done everyone. Really really pleased to see so many of you there – thank you.
Also it has to be said – very well done to Dylan for helping me with the Beaver Promise – you were much better than me, and I was glad to have your company up there. You did yourself, your family and 2nd Onchan proud. Also well done to Ben for helping to present the Manx Necker to the England Commissioner – great job.
Thanks to all the mums and dads and grandmas and granddads who turned up to support and help us.
We finished the afternoon with some sandcastle building on the beach – but the best of the weather had passed by then and it had started to get a bit chilly – so well done to all those who stayed – and thank you Rosie for the coffee! A most welcoming sight!
INVESTITURES – THURSDAY 12 MAY 2016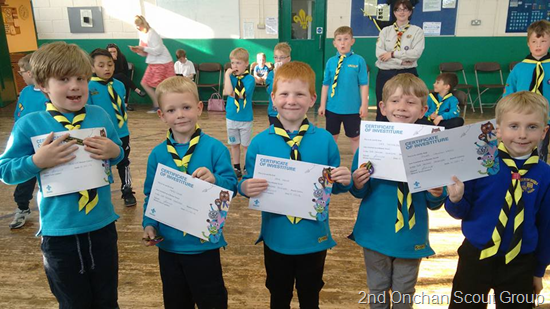 No matter how many years I have been involved in Scouting and Beavers at 2nd Onchan – Investitures are still my favourite thing! It is the beginning of an exciting Scouting adventure. Our 6 to 7 years old often arrive for their first meeting, slightly apprehensive (and some just bound through the door – you know who you are), but the minute they get their 2nd Onchan Necker – their confidence grows and the fun starts. There is no better thing in Scouting.
Congratulations to our five new Beavers who were invested on Thursday – James, Jack, Sam, Evan and Tyler. They have all settled in really well and are making new friends and having a good time. Thank you also for the fantastic turnout of parents who came along for the occasion – it was lovely to see you all and we look forward to getting to know you over the next two years.
The Beavers all remembered their Promise perfectly – and we had the added bonus of a couple of solo performances – so very well done to you all. This is just the start of your journey in Scouting, and you are now officially part of the World Scout Association, and part of the best Group on the Island!
THREE LEG CHALLENGE and JOTT – SATURDAY 14 MAY 2016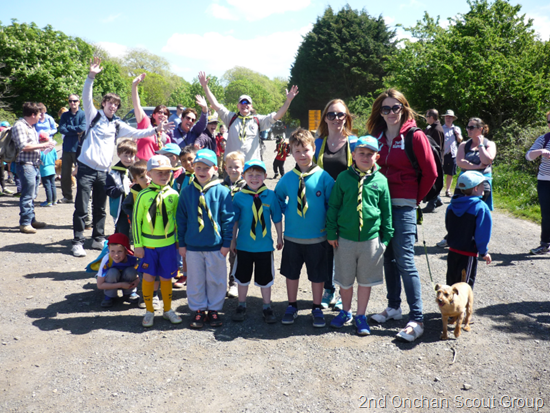 A fantastic turnout today – 12 Thursday Beavers and 4 Leaders joined the walk from St John's to Peel, along with 9 Parents and Grandparents and 3 sibling (2 of which were Cubs, also taking part in JOTT). Twenty eight representing 2nd Onchan Thursday Beavers – a pretty good turnout.
The walk forms part of the Beaver Three Legs Challenge – Oliver has now completed his third leg and will gain his Three Legs Challenge Badge (well done Oliver) – and also JOTT (Jamboree on the Trail) which is an annual walk made on the second Saturday of May every year, all over the World. There is a special JOTT badge awarded each year which can be worn at the bottom of the sweatshirt.
Well done to everyone taking part – some of us were a bit slower this time – enjoying the quiz and the lovely scenery along the walk!