THREE LEGS CHALLENGE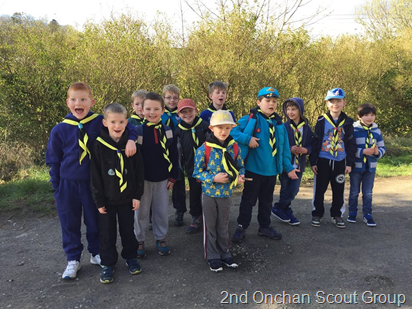 A lovely morning – very well done to the 12 Beavers who turned out for the walk this morning, and well done and thank you to all the parents and family members who joined us for the walk – we do appreciate it, and I think the Beavers love having you along! We were able to award some Three Leg Challenge Badges for those Beavers and Leaders who have completed all three walks, so well done to Charlotte​, Corben, Evan, James and Samson – you have now walked the entire length of the Heritage Trail!
MOVING ON to CUBS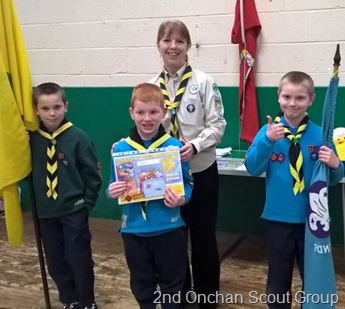 It is always a sad time when we say goodbye to Beavers, as they Move On to Cubs. These four have had a fantastic journey through Scouting already, and it has been lovely watching them grow in height and confidence!! Patrick has been with us the longest, arriving with his dad in March 2015 – it has to be said – not always easy having your parent as your Beaver Leader – you have to be extra well behaved and turn up to everything!! Good luck to you all as you continue your adventures in Scouting – Patrick, Vinnie, Sean and Jack.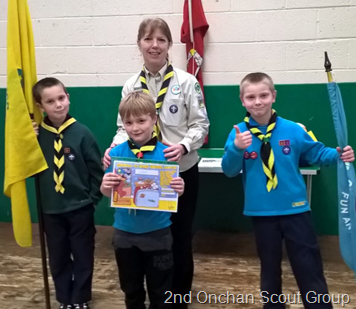 LODGE POINTS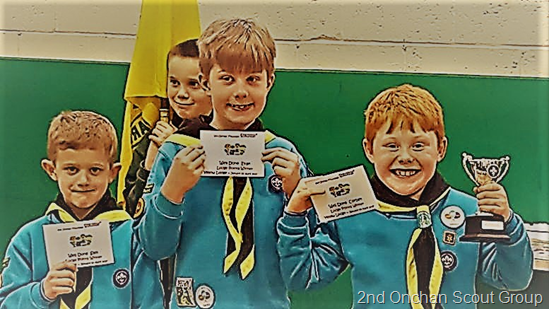 Well done AGAIN to Yellow Lodge who won the Lodge Points Trophy this Term. Excellent work guys – and considering you only have four in your Lodge rather than five, and points are gained from attendance (amongst other things), that is really good going. Very well done!
DUKE OF EDINBURGH STUDENT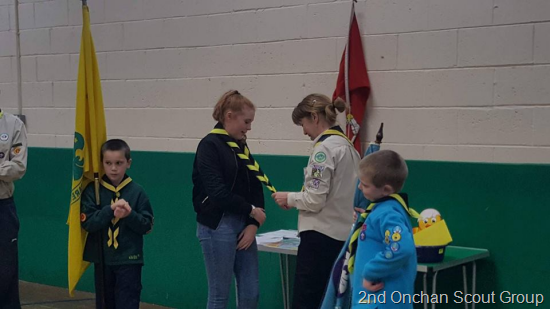 Thanks to Robyn, our 13 year old Duke of Edinburgh student who joined us for a 3 month placement this term, and helped us out with a dance activity for the Beavers. We were very impressed with Robyn's commitment and thought it would be nice to present her with a 2nd Onchan Group scarf to remember us by. We wish her all the very best.
ST GEORGE'S DAY PARADE & SERVICE 2017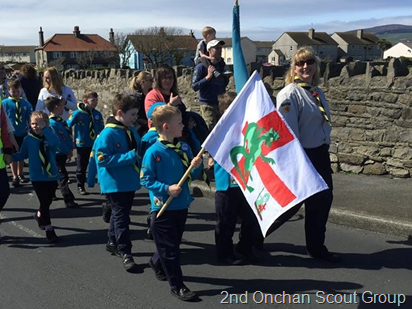 Thank you to those Beavers and their parents who were at the St George's Parade and Service, and special thanks to Dylan and Corben for their part in the Service – you both did really well. Also well done to Sean for carrying the Beaver Flag, and James for carrying our St George's Flag! You all did really well.