FINGERSPELLING ALPHABET – THURSDAY 12 MARCH 2015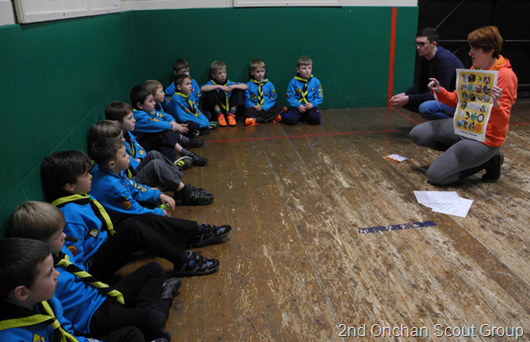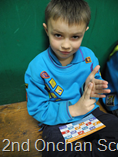 Thursday Beavers were recently visited by Daveen Taylor who is a Cub Leader on the Island and also an Assistant Commissioner for Special Needs. Daveen has been deaf since about the age of 7, and came along to Thursday Beavers to show us all how to use the British fingerspelling alphabet. The Beavers were captivated and very excited to learn how to spell their name using their fingers. They all picked it up really well and were happily showing off what they could do. Our thanks go to Daveen for finding the time to come and see us.
BAILEY THE GUIDE DOG – THURSDAY 19 MARCH 2015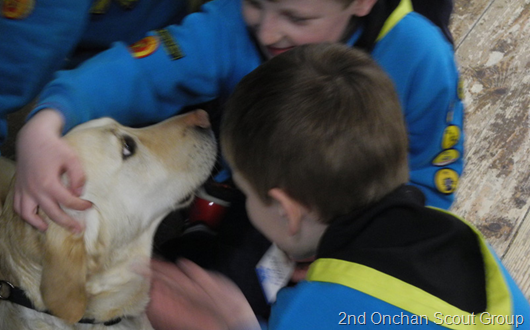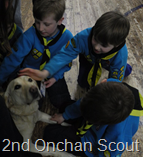 Last week we were very lucky to be visited by Bailey. Bailey is a Guide Dog and came along to meet Thursday Beavers with her owner Tanya and Tanya's friend Anne. The Beavers were very excited to learn all about Bailey – how old she was, where she had come from, how long it took to train her and how much it cost to train her. They also had a little quiz to see what they could remember – and they each received a badge for their correct answers. As well as having a chance to pat Bailey, all the Beavers took home a bookmark. Our thanks to Anne, Tanya and Bailey for coming to see us.
THREE LEGS CHALLENGE – SUNDAY 22 MARCH 2015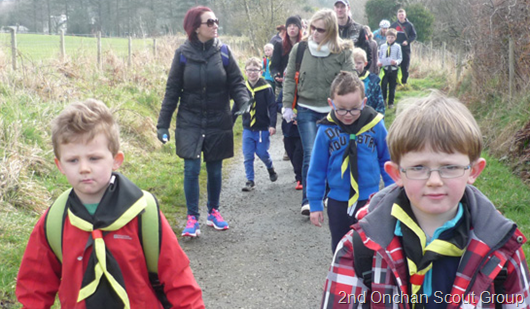 On Sunday, Thursday Beavers joined other Island Beavers to complete the second leg of the Three Legs Challenge 2015. Twelve Beavers joined the walk from Crosby to St John's. The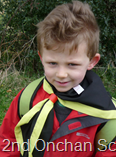 weather was pleasant and dry, and the Beavers, along with mums and dads, completed the walk in about an hour and a half – a great effort. Along the way there were many things to see and hear and the Beavers were kept busy recording some of these things. Three Beavers from the Thursday Colony have now completed all three legs of the 2014/15 Challenge – so very well done to Jacob, Joseph and Nicholas who have gained their 3 Legs Challenge Badge. For some of our Beavers it was the first Leg of the Challenge and also meant that they gained their Hikes 1 Badge – so well done to Freddie, Fynn, Joshua and Rowan. We were also pleased to have Patrick join us for his first hike. Patrick is due to start at Thursday Beavers after Easter – so once he is Invested, he will also receive his Hikes 1 Badge.