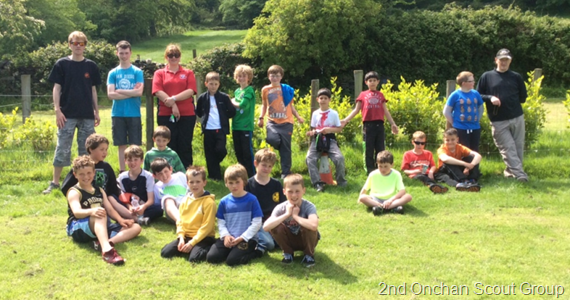 Over the 23rd-25th May Manannan Cubs help a camp in Maughold, camping in a field by the Venture Centre. On the Friday night cubs battled the rain to put up their tents before going on a short walk to the beach before heading up to Ramsey Scout Hall to watch a film. We then braved the night in the tents as the rain had cleared.

Saturday morning, a nice early start saw us head to the scout hall for breakfast before a playing in Mooragh park. We then headed back to the venture centre for the day's activities. Before lunch everybody had a go at the assault course and on the zip wire. A few cubs got a soaking in the tunnels by Akela so it was then time to dry off before some hot dogs and soup for lunch. The afternoon started by everyone abseiling down the wall first and then the brave ones (including Mark!) tackling the tree. After this we split into 2 groups to do air rifle shooting and archery. Following the full day of activities it was time to head for our BBQ tea (even though it was raining!!!). After lots of burgers and sausages had been consumed we played a few more games and watched some more films. Lots of tired cubs fell asleep during the films so we headed back to our tents and fell asleep listening to the heavy rain outside.
Sunday morning started off much nicer with the weather though it was the day the cubs were going to get wet on the lake kayaking and canoeing anyway! After a later breakfast it was time to head out onto the lake, where cubs went around the lake and onto the island in the middle as well as playing some games in their canoes and kayaks. There were a few capsizes and falling in but good fun was had by all! After lunch it was time to head back to the campsite to pack away and take down the tents. After the site was clear the sun decided to come out so cubs had a good game of football together and then we headed back to Mooragh park where parents picked up lots of tired and happy cubs!