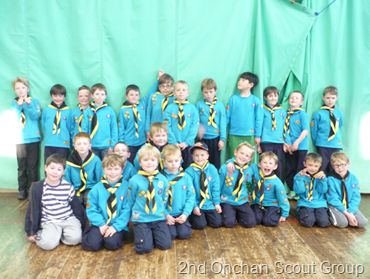 Hard to believe it has been 18 months since our last Sleepover/Movie Night. Time flies! Nine Thursday Beavers and 15 Tuesday Beavers met on Friday night for a Sleepover / Movie Night at the Scout Hall. The Beavers were very, very excited, and for many it was their first night away from home.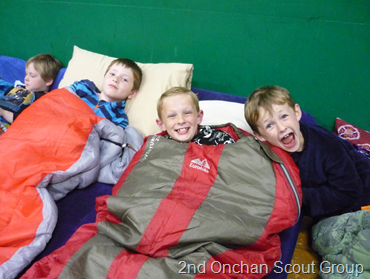 We started the evening with some games followed by juice and biscuits. Then it was time to get ready for the movie! We just about managed to fit 24 Beavers along two sides of the hall, so they all had a good view of the film. Once they were in their PJs, the snacks came out and the movie started – Disney's Robin Hood. There were numerous visits to the kitchen for juice and hot chocolate, followed by numerous visits to the bathroom! At 11pm it was time for bed – it was a long film! After about half an hour most of the Beavers began to settle down and some were even asleep! I think it was sometime after midnight when the last Beaver fell asleep and the constant rustling of bedding and clicking of torches subsided. There are different versions of how much sleep was had by all, but most of the Beavers, and unfortunately the Leaders, began to stir about 6am.
The evening seemed to be a resounding success, as everyone was happy to come back again another time (except the Leaders) – funny that! Thanks to all the Leaders and special thanks to Aaron and Ellen for your help too. Thanks also to Phoenix Scouts for letting us use the hall on their Troop Night.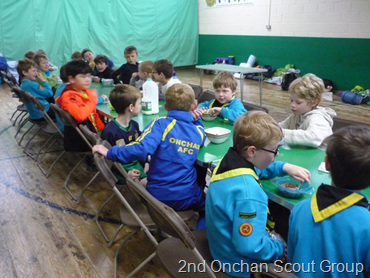 Very well done to ALL the Beavers who took part in the Sleepover / Movie Night. We usually like to nominate a 'Beaver of the Sleepover' – someone who was well behaved (which was everyone) and someone who got themselves organised for bed and settled down quickly to sleep. Tuesday Beavers will announce their Beaver at their next meeting, but for Thursday Beavers there were two Beavers who stood out – Harry J and Jacob H. Well done boys.
This was also a Fundraising Event for the Jamboree 2015 and we think we may have raised £75 towards the fund.