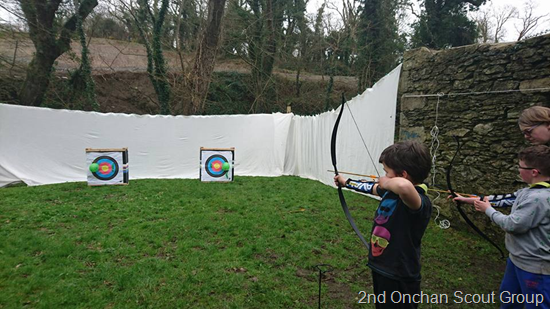 Over the weekend of 17 March to 19 March, 16 Cubs and 4 Leaders from 2nd Onchan's Manannan Cub Pack went camping at Malew Scout Hall in Ballasalla.
On the Friday evening we settled into the Hall before heading out for a short hike and some wide games near Port Soldrick. Managing to avoid the wet weather we headed back after several games, and Cubs losing shoes in the mud! Back at the Hall, we had some supper and hot chocolate and watched a film before bed whilst the Leaders made sandwiches for the next day's lunch. All Cubs were fast asleep by 1am, which the Leaders were impressed with!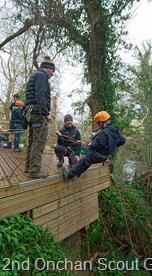 An early start the next day and following breakfast and inspection we headed out for some games and free time before walking to Mullin Ny Carty for Abseiling and Archery. All Cubs really enjoyed these activities and many faced some fears stepping off the abseiling platform but everyone was filled with the sense of achievement when they made it to the bottom and those who had initially been scared wanted to go again! We did some fire lighting and volcano kettles before lunch and then a quick trip back to the Scout Hall to change out of muddy clothes.
Unfortunately we were late for our swimming session at Castletown pool and it was already full but the Cubs did learn that when Akela says 10 minutes, he means 10 minutes! Instead we headed to the NSC for some swimming there and a go on the slides!
Back at the Scout Hall the Cubs had some free time before a delicious dinner of Spaghetti Bolognese and garlic bread and then lots and lots and lots of cake and custard for pudding. We headed out for a couple of games at the local school field whilst the Hall was set up for our movie night. Back inside, the Cubs got into their sleeping bags and picked their spot for the movie. With hot chocolate and biscuits I think most lasted maybe an hour before they were fast asleep!
On Sunday we had sausage sandwiches for breakfast alongside our cereal and toast before tidying up all our belonging and inspection. After that we hopped in the minibus and headed up to Ape Mann Adventure Park for a morning's activities on the lower high ropes course and the monkey tree. It was a bit damp on Sunday, okay a lot, but this didn't seem to dampen any spirits as we all attempted to conquer the course.
It was then back to the Hall for lunch, a final tidy up and a feedback session on the weekend before heading home.
All Cubs seemed to have a very enjoyable weekend doing new activities they have not done before, we were fortunate with the weather and got a lot less wet than initially anticipated. Thanks to all the Cubs and other Leaders for the weekend… now onto planning the next one!
Alex
Cub Scout Leader (Akela)