BLACKPOOL – SATURDAY 21 MAY 2016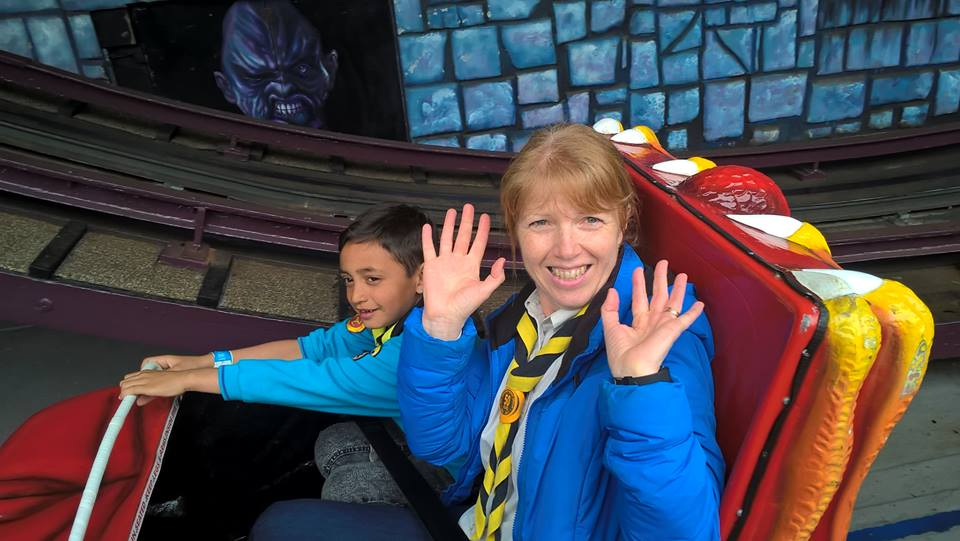 Four of our Thursday Beavers had a fantastic time at Blackpool with their dads. Although it was a bit of an unsettled start on the boat and it poured with rain on our journey from Liverpool to Blackpool – it was dry when we arrived at the Pleasure Beach and the day just got better and better!
Well done to Patrick, Bo, Callum and Rowan. Thanks to Bo for sharing the Ghost Train with me – I was too scared to go on my own, and Patrick for sharing the big dipper with me (which I was told was actually a little dipper) – I don't know I kept my eyes shut the whole time!
A great day out, and hopefully one that will be repeated in a couple of years – when all our current Beavers will be in Cubs!
DOUGLAS BEACH – THURSDAY 23 JUNE 2016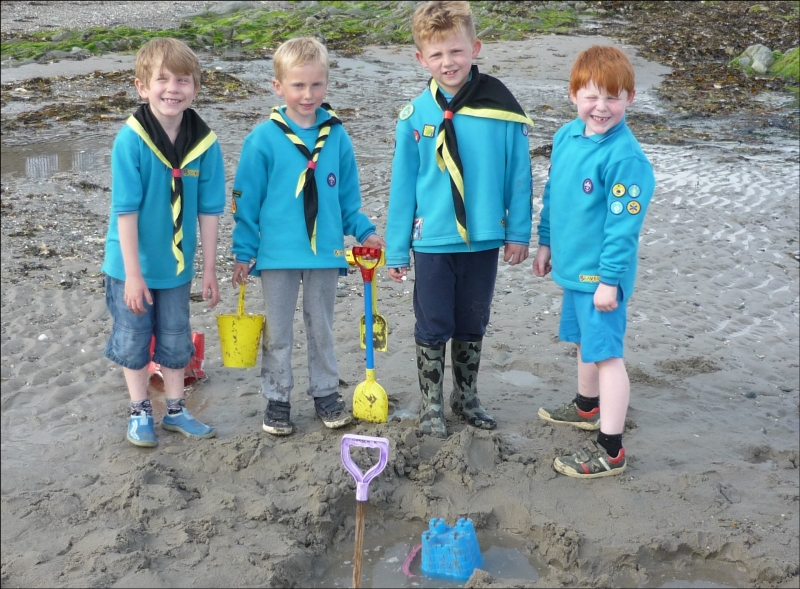 What a good night on Douglas Beach!
The Beavers started with a sand race – a little more training for the forthcoming Sports Day!  Then they began working towards their Teamwork and Skills Challenge Badges – so in their Lodges they were tasked with creating a sandcastle or sand sculpture. Despite some rather wet sand – they all came up with some very creative ideas!  The evening finished with some gold digging – by far the most fun – and the lucky winner who found the gold envelope (buried in the sand) won a gold bar of chocolate!
ISLAND BEAVERS TRAIN TRIP – SUNDAY 26 JUNE 2016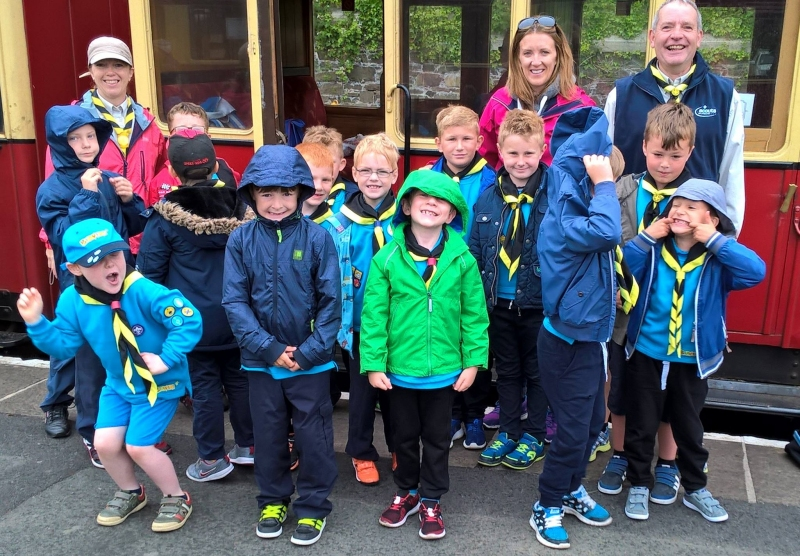 Despite the promise of heavy rain, 14 Thursday Beavers arrived at Douglas Train Station, along with other Island Beavers for a Train Trip to Poulsom Park. There was much excitement as we located our carriages and set off on our journey.
We played games and shared some sweets on the journey down, the time passing really quickly. Unfortunately it was too wet for our picnic in the park, so we headed to Castletown Scout Group for our lunch and a couple of games – Bingo and Heads or Tails, followed by a sing song.
The before we knew it, it was time to head back to the train station and start out journey back to Douglas. More sweets and games on the journey home.  The Beavers were really well behaved, despite the constraints of the weather, and all seemed to have a really good time. So well done everyone – a great success!
CIVIC SUNDAY – SUNDAY 10 JULY 2016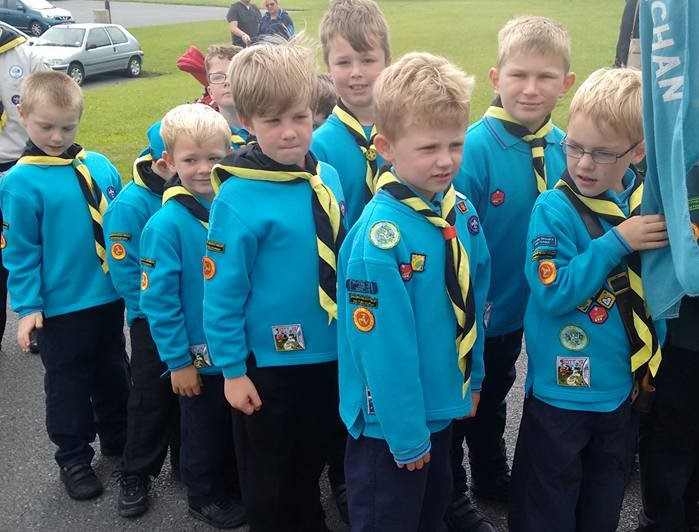 Well done to the Beavers who turned out today for the Onchan Civic Sunday Parade & Service. All very well behaved, a bit fidgety in the Church, but it was quite a long Service! Thank you for your support. A special well done to our flag bearer Patrick – great job!
ISLAND BEAVERS SPORTS DAY – SUNDAY 17 JULY 2016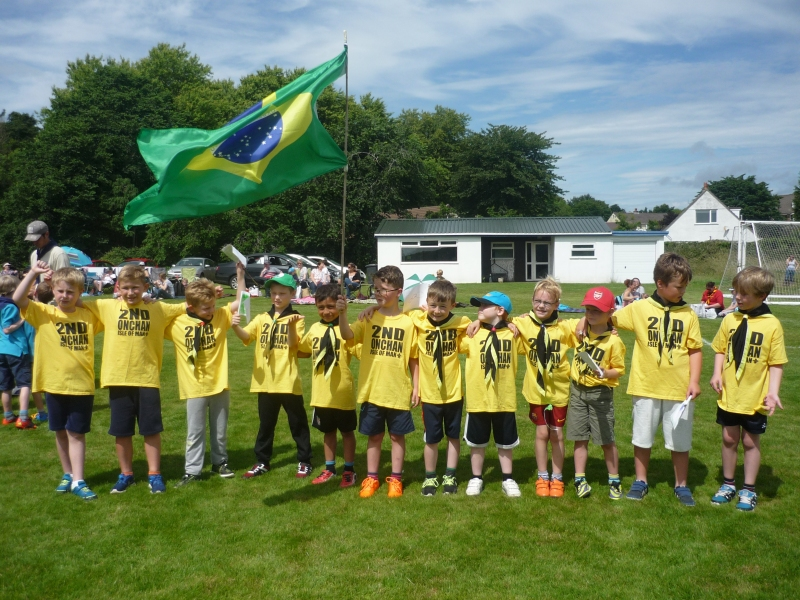 Champions SIX YEARS running!!
Massive congratulations and a huge thank you to all the Beavers who turned up for Sports Day (and to those who helped with the training, but couldn't make it on the day) – Harry, Evan, Corben, Sean, Bo, Patrick, Oliver, Dylan, Samson, Ben, James, Callum, Joe and Rowan.  Special thanks to Dylan and Samson who both agreed to help Tuesday Beavers, as they were low in numbers. It also meant that the two boys got to take part in more events – so thank you for that – you are still part of this winning team!!  Thank you also to our amazing parents and siblings who turn up and support these events. You all get involved, cheering on, helping with the Beavers, getting drinks, supplying cakes (thank you Roberta – delicious), helping with biscuits and sweets (thanks Sam and Rosie) and offering to wash t shirts – to name but a few things – you really make our job easier and so much fun 🙂
It was a truly fantastic performance, each Beaver trying their absolute hardest!!  The pressure is over for another year – I am not sure I can cope!!
LAST NIGHT – FUN IN THE PARK – THURSDAY 21 JULY 2016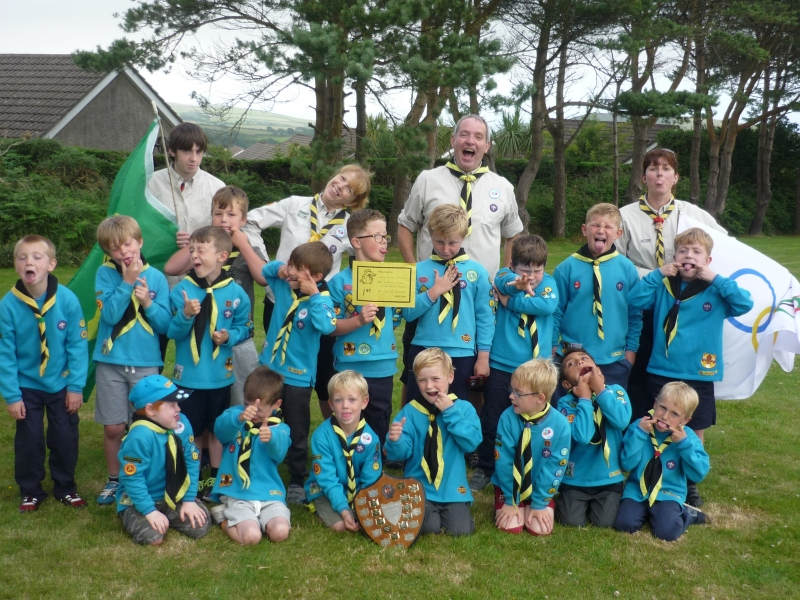 Thursday Beavers finished their year with some Fun in the Park – playing on the swings, the pirate ship and having a game of football!!  We had a little break for ice lollies and finished the evening with some donuts and muffins and juice (thank you Ben's mum)!
We announced the new Lodge Winners – this is a trophy that the Lodge get to keep for the next term, and is awarded based on points gained for attendance, behaviour, helpfulness, uniform etc, over the previous term – so it is huge congratulations to YELLOW LODGE – Oliver, Sean, Evan, Harry and Samson – a lovely Lodge, prone to a bit of giddyness – but they have worked hard to improve over the term. WELL DONE 🙂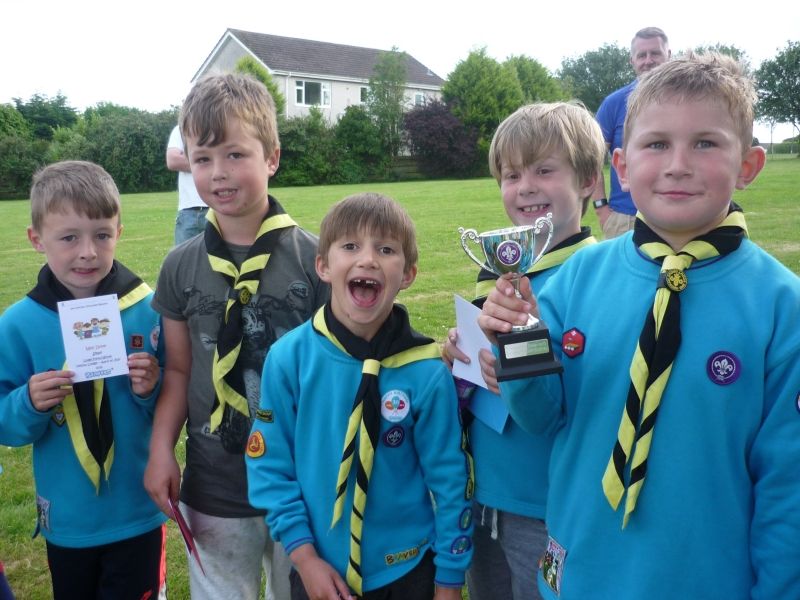 MOVING ON – CALLUM & BEN – THURSDAY 21 JULY 2016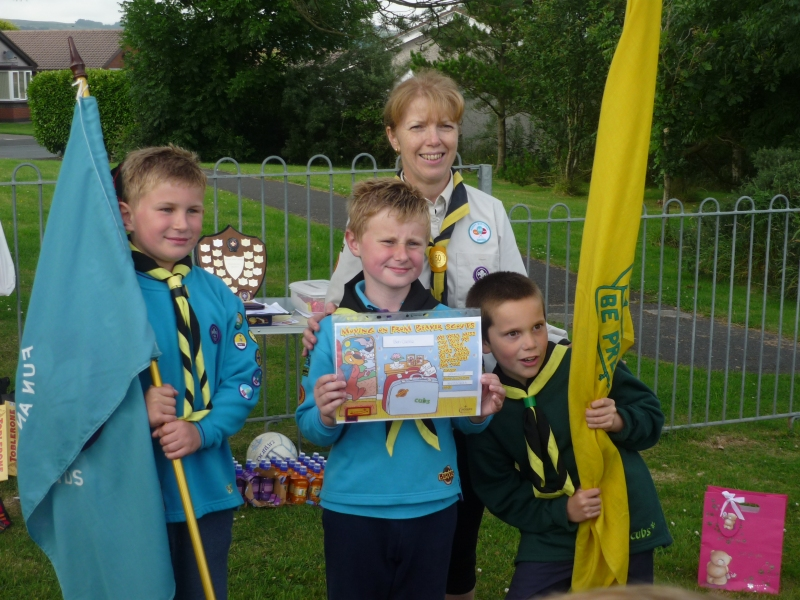 After two years in Beavers it was Callum & Ben's last night, before moving to Cubs in September. Both boys will be joining Manannan Cubs (Monday).
Callum definitely hit the ground running at Beavers, along with his sidekick Fynn, but over the years he has developed some good behaviours, became a very good Lodge Leader and remained enthusiastic throughout. I don't recall ever hearing Callum complain – he just seemed to get on with everything that was asked.
Not one for standing still, Ben has been enthusiastic and helpful throughout his time at Beavers. He has been a brilliant Lodge Leader and a good friend to everyone. A bit of a fidget during ceremonies, Ben suddenly turned a corner last year and managed a whole evening without a fidget! He was awarded the Beaver of the Night three weeks in a row for great behaviour – so really well done!
We will all miss you both, but wish you the very best in Manannan Cubs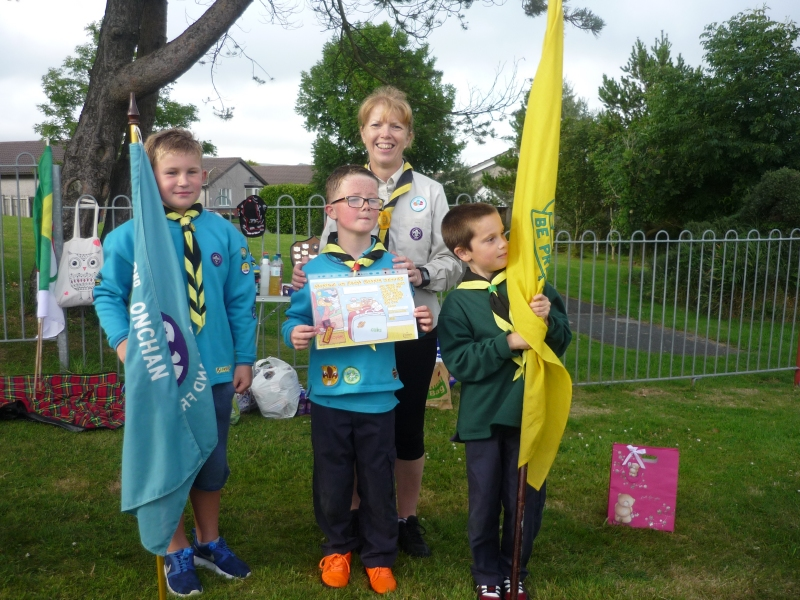 CHARLOTTE'S WEDDING – SATURDAY 13 AUGUST 2016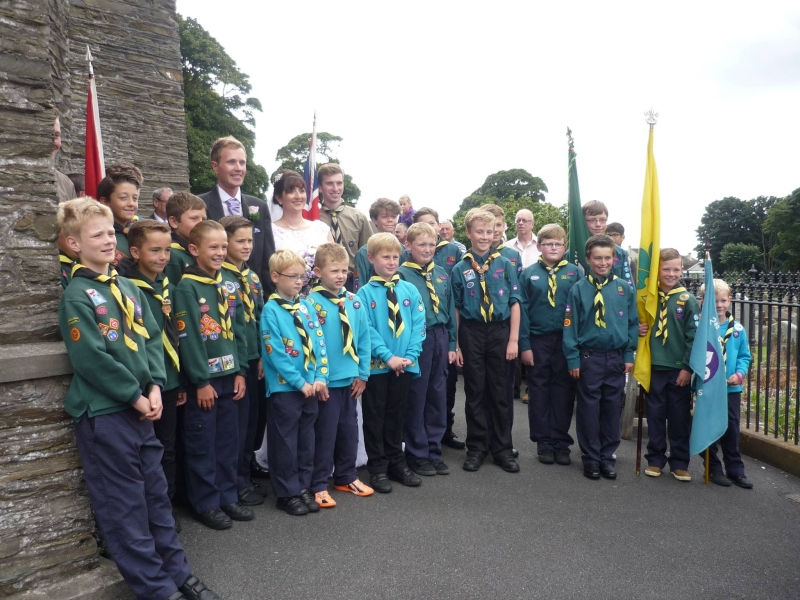 It was a beautiful day as we celebrated Charlotte and Andrew's wedding.  They both looked amazing, but Charlotte was the star of the day and looked stunning! A few younger members of the Group were invited along to form a Guard of Honour as the newly weds left the church. It was a very special moment – in a day of special moments! Thanks to James, our flag bearer, Patrick, Rowan and Ben for representing the Beaver Section on the day. Andrew and Charlotte were delighted to share their day with some of Beavers, Cubs, Scouts and Explorers and I am sure will treasure these memories in years to come.
Congratulations to you both from the Thursday Beaver Colony!