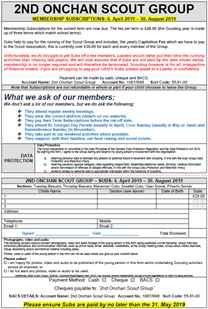 Subs for the Summer Term are coming due and payable. We have updated the Subs Form to comply with current GDPR regulations. We would be grateful if parents could ensure their child's Subs are paid by the end of May at the latest.
It is important subs are paid for all members as they help to pay for the running of the Group. None payment of Subs could result in membership being cancelled.
You can download the Subs Form here. It will also be available from Section Leaders and the latest Subs Form is always available on this website.