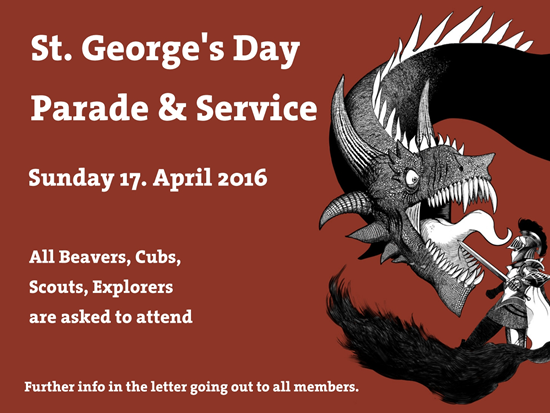 St. George is the Patron Saint of Scouting and each year Beavers, Cubs, Scouts and Explorers from all over the British Isles get together in their Counties and Districts to take part in Parades and Services to celebrate Scouting's National Day.
Here on the Isle of Man, we at 2nd Onchan, will be joining with all the other Island Scout Groups on Sunday 17. April 2016, at the St. George's Day Parade, which this year is taking place in Peel, with the service being held inside Peel Castle (if wet in Peel Cathedral). Being one of the most important dates in the Scouting Calendar, all the Beavers, Cubs, Scouts, Explorers and Leaders will be renewing their Beaver, Cub and Scout Promises, during the Service.
As you may know, 2nd Onchan is the largest Scout Group on the Isle of Man and as such, we will be expected to have the biggest and most likely, the smartest turnout on the Parade.
I would ask that every member of 2nd Onchan Scout Group, from the youngest Beaver Scout to the oldest Explorer Scout takes part, to support not only their Section, but also the Group and Scouting on the Isle of Man, by attending the St. George's Day Parade and Service. Parents are also welcome to attend the service.
Full Uniform is to be worn, including Scout Activity Trousers and School Shoes. I would also suggest that a coat is brought by everyone, just in case of inclement weather.
We will be meeting at the old Swimming Pool end of Peel Promenade for no later than 1.30pm (parents are asked to park in the field on the Headland – see map below). Please assemble with other members of 2nd Onchan. The Service in the castle grounds will finish at approximately 3.15pm. There are afternoon activities for Beavers and Scouts, who wish to take part in them, further details of which will be sent out by your child's Leader.
In the event of inclement weather, the Service will take place in Peel Cathedral; announcements will be made on Manx Radio and added to our Facebook Group.
This Parade should be the largest ever gathering of 2nd Onchan Scout Group Members so far this year, please help ensure that it is.