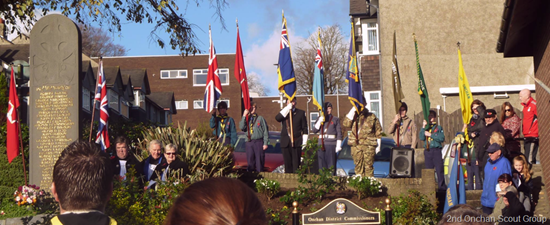 To: All Beaver Scouts, Cub Scouts, Scouts
Explorer Scouts & Leaders
From: The Group Scout Leader
On Sunday the 12. November 2017, it's Remembrance Sunday, the day we remember all those who gave their lives defending our Country and the way of life we enjoy.
Our two Beaver Colonies, two Cub Packs, two Scout Troops and the Explorer Unit will be joining with the people of Onchan to Parade from the Manx Arms Hotel to St. Peters Church, where a Service of Remembrance will be held. Afterwards we will be parading to the War Memorial on Main Road, where a short Open Air Service will take place.
We will be meeting behind Elm Tree House, for no later than 09:15. Full uniform, including Scout Activity Trousers and shoes, is to be worn. Please bring a coat with you in case of inclement weather. The Open Air Service at the War Memorial will finish at about 11:15 from where you can be collected.
Please do your very best to attend.