SHIP SHORE / HEAD & CATCH CHAMPION SPRING 2015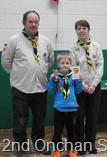 We have just completed another Ship Shore Competition for the Winter/Spring Term of 2015. This Term we changed the format slightly and alternated Ship Shore with Head & Catch – which requires a bit less running, but a bit more skill. Once again the scores were close. In fourth place were Nicholas, Sam, Freddie & Alex. In third place was Harry J. In second place was last term's Champion – Oscar W, and our Ship Shore / Head & Catch Champion for Spring 2015 is Samuel C! The first three places all received a certificate of congratulations and Samuel received a small trophy. Well done Samuel!
MOVING ON

Thursday Beavers have reached the end of yet another term – and that means it is time to say goodbye to Charlie M who is 'Moving On' to Snaefell Cubs after Easter. Charlie was presented with his Moving On certificate, Moving On badge and Two Year Participation badge. We have enjoyed having Charlie at Beavers, always smiling and always well behaved. We will really miss him, but wish him all the very best in Cubs.
LEE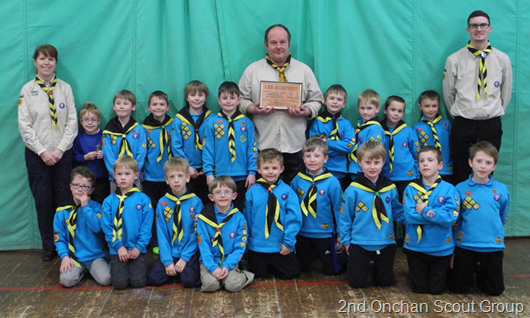 Lastly it was time to say Thank You to our Assistant Beaver Leader, Lee Rumney. Lee has been with Thursday Beavers for over 10 years and has also been helping out at Tuesday Beavers for the last 3 years. Lee is going to the UK for work, so won't be around to continue helping and supporting the Beaver Colonies. Lee has brought a wonderful balance of humour, passion and authority to Beavers – he will be very much missed.
We are very fortunate at Thursday Beavers to have Charlotte Unwin (our Assistant Cub Leader for Manannan) and Rob Clynes (a new parent) agree to come along to help out at colony meetings, along with Chris Armstrong (our Assistant Beaver Leader) and myself. I look forward to new and exciting times ahead.