Twenty nine Cubs, Scouts and Explorers (Scouts) together with six Leaders spent a week travelling around the Stourport Ring over the 4. – 11. August 2012.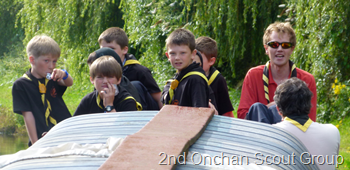 Everyone assembled at the Sea Terminal for an early morning sail to Liverpool on Saturday 4. August. Once in Liverpool our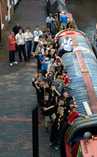 coach was waiting for us at the Dock and just under 2½ hours later we arrived at Gas Street Basin, just as our first food supplies were being delivered by Asda. The Scouts were introduced to Graham and Mike who would be our two steerers for the week. We had three narrowboats, two powered and one towed, called a Butty. After a briefing and allocation to boats we set off, we only did three locks that day and the Scouts were instructed in how to operate the locks in teams. That evening we moored next to the Black Country Museum, which we would be visiting the next day. There were excellent shower and toilet facilities at this mooring, they were located about 10 metres away from our boats, but unfortunately on the opposite side of the canal and it was a good five minute walk to get to them. Each boat did its own cooking during the trip and the first evening meal was spaghetti bolognaise.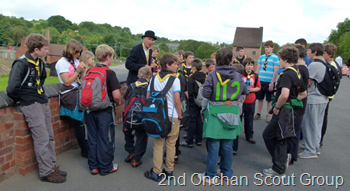 On Sunday we were all up pretty early and after breakfast and inspection headed off to the Black Country Museum. The Museum is a living museum based around 1910, with lots of industrial buildings, shops, schools and even a fair to visit. Every building on the site has been moved there from around the surrounding countryside, we even went down a simulated coalmine. We headed off at around 13:00 on our way to Merry Hill. Dinner of Sausages, new potatoes and baked beans. At Merry Hill, the Scouts went off to the nearby cinema.
Monday morning was the start of a long day of locks, thirty two in total, all going downhill. Scouts were divided into two teams for each boat. The first team would fill the lock if empty and open the top gates for the narrowboat to enter then close them again, they would then move onto the next lock to get that ready. The second team would then wind open the paddles of the bottom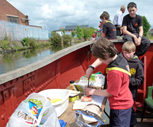 gate to empty the water out and open the gates to let the boats out. Unpowered the Butty would be towed by hand between locks by an Explorer Scout. Part way down the section of locks the rain came down extremely heavily and a few of us got a good soaking. This days travel took us to Kinver Village and after tea of Hot Dogs, the Scouts played games outside, until it was time for bed.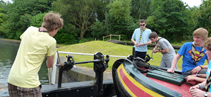 On Tuesday we thought we would give our younger members a lie in as we were heading off early. Explorer Scouts transferred to the other boats to operate the locks and we headed off to Kidderminster at 07:30. We moored up at Kidderminster at around 11:00 next to a local Sainsbury's where we were able to stock up on provisions, then it was quick bus ride to the West Midlands Safari Park for the afternoon. Most of the Scouts were more interested in going around the Theme Park rather than look at the animals. We only just made our bus connection, as some Cubs thought they could just fit one more ride in before our due leaving time, they couldn't and it almost made us late. We made an evening run to Stourport eating our evening meal of roast chicken, potatoes and vegetables, along the way. There were showers at Stourport, so they were put to good use.

On Wednesday Morning the Butty was lashed to the side of one of the powered narrowboats and we went down a double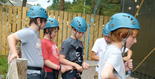 lock onto the River Severn. We travelled downstream through a few large locks which were electrically operated, so no work for the Scouts. Just after lunch we moored up and the Scouts were collected by a tractor pulling a large seated trailer which took us all to the Top Barn Activity Centre, where we handed the Scouts over

to the staff, who ran three activities for them: Climbing, Archery and High Ropes, over three hours. Late afternoon we were back on the river and with all three boats lashed side getting into early evening we arrived into Worcester. We tied up just below the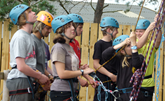 main basin. A treat for tea was McDonalds in the town centre. Back at the boats some of the Scouts started to feel unwell and during the course of the night a fair number were sick. Leaders were kept busy looking after those unwell. Two Leaders also became sick overnight.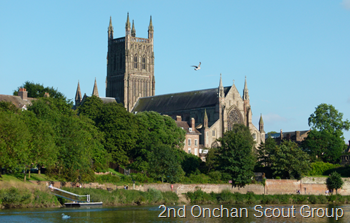 On Thursday morning, those who had been ill started to fell better, but were drained of energy. Scouts who were well transferred to other boats to help operate the locks and we headed up the canal system once again. We were due to go swimming that morning, but made the decision to cancel it as not too many Scouts were in a fit state to go, we also needed to find a laundrette to clean five sleeping bags. It was a warm day and we had a fair few locks to go through. We arrived at our stop Stoke Works Village for about 8pm and had a late dinner of Sweat and Sour Chicken with Noodles. Everyone was tired out so not long after dinner we headed off to bed.

Friday was going to be along day. We had thirty six locks to go through in about ten miles of travel. It was warm and sunny and again the Scouts worked very well in their teams. Once all the locks were completed the Scouts were rewarded with a stop for a shower at, before we travelled for a further three hours, but with no more locks. Again it was a late finish, so we had a takeaway sausage and chips for tea. We were moored close to Cadburys ready for the next day, we were also next to the railway and trains went past on a regular basis, which was a bit noisy.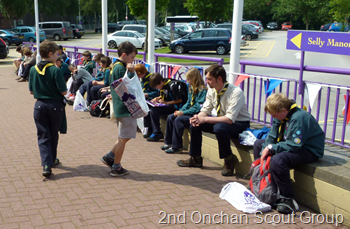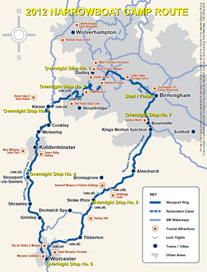 On Saturday, everyone got back into uniform, kit was packed away and we headed off to Cadburys World, where the Scouts spent a couple of hours going around the attractions, before buying lots of chocolates. It took us just under two hours to get to Gas Street Basin and pack all our gear away and leave the boats clean and tidy. It was a two hour coach trip back to Liverpool and a two hour seacat trip back home where parents were waiting.
It total we travelled 74 miles and went through 105 locks. We also travelled though various tunnels including one which was over 9,000 feet long (2,768 metres).
Even though we had the illness problem, the feedback we have had has been very positive and all seemed to enjoy the camp. The Cubs, Scouts and Explorers were all a credit to the Group and worked very hard on the canals. Thanks must also go to the Leaders who made the whole camp possible.
Over six hundred photos from the camp can be found here.