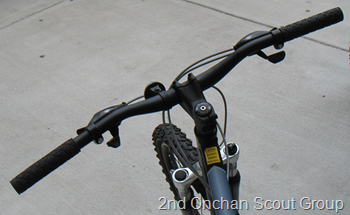 On Sunday 27. November 2011, we are holding a Mountain Bike Hike for all the Scouts in both Troops and the Explorer Scouts. The hike follows the Heritage Way from Douglas to Peel and back again, a distance of about 20 miles. As the route follows the old railway line, it stays off roads.
If you wish, you can just do from Douglas to Peel and be picked up from the Car Park at Fenella Beach for about 12:30.
We will be meeting at the Quarter Bridge Public House Car Park for 10:00. We should be back at the Quarter Bridge for about 15:30.
All Scouts taking part will need a road worthy mountain bike, packed lunch and drink, waterproofs and suitable clothing for cycling in. Helmets are to be worn by all participants. No helmet – no go.