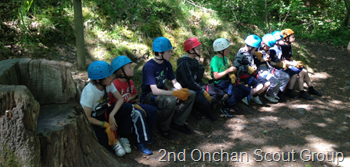 Over the weekend 25. – 27. May 2012, sixteen Cubs, four Leaders and one young Leader attended the Cub Camp based at Malew Scout Hall.  We all met on a glorious, sunny Friday evening at the Scout Hall, we all then hiked to Poulsom Park, where we then played a game off Danish Long Ball followed by a game of football.  It was getting late so we all then hiked back to the Scout Hall where we had supper and watched a short film.  It was then time for bed, after about an hour all Cubs & Leaders were fast asleep. 
Saturday morning and at 7.30am there was no noise from the Cubs who were all still fast asleep, they didn't stay asleep for too long as the sound of banging pans soon woke the Cubs up, after inspection and breakfast we travelled to the Venture Centre where eight Cubs went Abseiling at the Venture Centre while eight Cubs went kayaking on the Mooragh Lake.  We all met for lunch then swapped around so all Cubs had the chance to take part in all activities.  As we all had a really good day and it was pretty warm, everyone was treated to an Ice-Cream which went down very well indeed.  Before we had our chippy tea we played Danish Long Ball on the rugby field in Ramsey.  Saturday evening we spent watching a couple of films before everyone fell asleep before Midnight.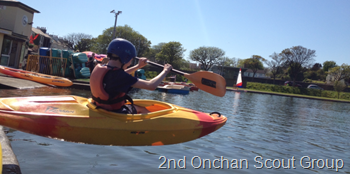 Sunday morning and again all Cubs were fast asleep, so were woken by the noise of banging pans, we had our breakfast outside again, then we travelled by bus to Port Erin beach where we swam in the sea, played football, French cricket and Danish Long Ball.  We had our lunch on the beach, and then got the bus back to the Scout Hall, where we all had a chat about the weekend and gave out prizes for the camp.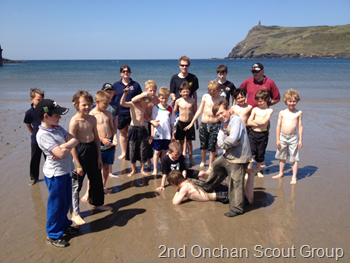 The Cub Camp was a great weekend, which was helped by the lovely weather we had all weekend. All the Cubs left the Cub Camp on Sunday with smiles on their faces and gave us lots of positive comments.