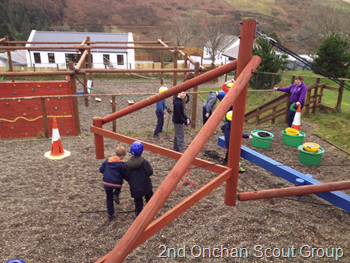 Over the weekend 15. – 17. November, Manannan Cubs invaded Ardwhallan.  On Friday night after all the Cubs had arrived, we set off on a small hike to St Luke's Church and did a treasure hunt around the Church Grounds all the Cubs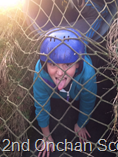 appeared to still have lots of energy so we decided to take the long way back to Ardwhallan (we didn't tell the Cubs this).  Once we were back at Ardwhallan, we watched some of the football on the TV and then watched Mr Bean before the Cubs went to bed.  Saturday morning was a nice and early start, after breakfast and inspection, the Cubs were split into 3 groups to do the following activities; archery, low ropes & challenge bases once all the Cubs had a go at all the activities we stopped for lunch.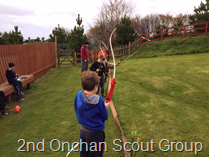 After lunch the Cubs were split into 2 groups to do the following activities, orienteering and backwoods cooking, all the Cubs managed to do really well making their bread sticks.  After this we completed some challenges on the Assault Course, and then finished the afternoon with some Man Hunt games.  After tea it was a Movie night where most of the Cubs fell asleep during the film.
Sunday was a drizzly day, so unfortunately we were unable to do our planned activities and decided to go swimming instead at the NSC, all the Cubs spent about two hours in the pool before returning to Ardwhallan for lunch and prizes.  After this it was a quick tidy up at Ardwhallan before everyone returning home.
Lots more photos on the Pack Facebook Page