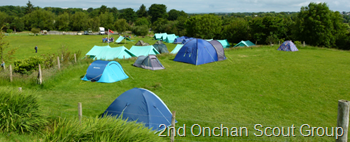 Scouts from both the Moddey Dhoo and Phoenix Scout Troops attended the Island Scout Camp which was held over the 29. June to the 1. July 2012, at the Crossags Camp Site in Ramsey.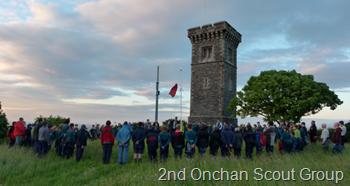 There was a very good attendance from most Island Scout Troops and an excellent turn out of Explorer Scouts working as Young Leaders and so many Scout Leaders, it was sometimes difficult to find them all a job.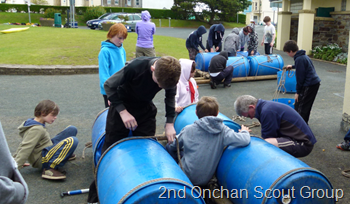 Friday night was spent setting up tents and getting organised and then the whole camp hiked up to the Albert Tower where Flag Break as held. Back on site there was supper and a briefing, before everyone headed off to bed.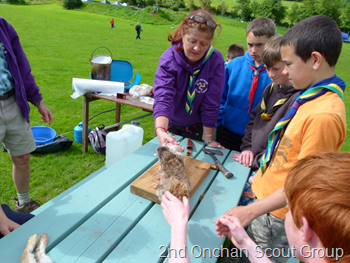 Saturday saw the Scouts doing various activities which included Mountain Biking, Kayaking, Raft Building, Pioneering, Backwoods Cooking, including the skinning of freshly killed rabbits. Axe and Saw Skills, Assault Course, Archery and loads more. In the evening the Scouts took part in an orienteering exercise, before siting down to the camp fire, full of Scouting songs and skits. After supper everyone watched a movie in the giant 'Ark' building.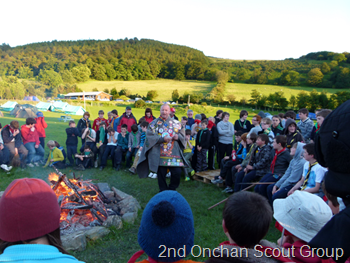 On Sunday it was overcast and there was a light drizzle After breakfast it was decided to send the Scouts off swimming or Ten Pin Bowling, while the Explorers and Leaders dropped all the tentage as the rain had died off and the wind soon dried the canvas.
After lunch it was a case of packing up gear and transporting badly packed rucsacs and the Scouts down to the collection point ready to head off home.