Scouts from both the Moddey Dhoo and Phoenix Scout Troops took part in a Hike Camp Weekend over the 21. – 23. March 2014. The camp was based at 1st Rushen Scout Group Headquarters in Port Erin.
Once everyone had settled in, we spent an hour doing map work. The intention then was to go for a short hike followed by a Wide Game but as it was pouring down outside we stayed inside instead, so had some games followed by supper and a movie.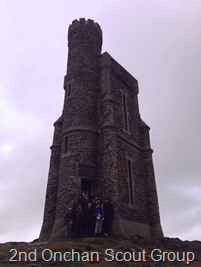 On Saturday after breakfast, inspection and the Scouts making their packed lunches, we headed off on the hike, which took us up Bradda Head, along the headland and down a very steep and slippy hill to Fleshwick, we then wound our way to Gansey Bay and followed the Raad Ny Foillan to Castletown. The day started a bit wet, but it soon cleared up and we had sunshine for most of the hike. At Castletown everyone was treated to an ice cream or cold drink, before the Scouts spent an hour in the swimming pool. The bus took us back to Port Erin which was a relief to some Scouts. After tea the Scouts played outside before it got dark, then we settled down to a movie.
On Sunday it was a case of packing up gear, giving the hall a tidy up before heading off home.