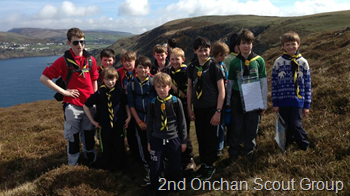 Scouts from both the Moddey Dhoo and Phoenix Scout Troops took part in a Hike Camp Weekend over the 3. – 5. May 2013. We were based at 1st Rushen Scout Headquarters, in Port Erin for the two nights and after a short introduction and briefing we walked to Milner's Tower on Bradda Head and had a great view of Port Erin in the darkening skies. The Scouts enjoyed a Wide Game on the headland, before heading back to the Scout HQ for supper followed by bed (distance walked: three miles).
On Saturday after breakfast and kit inspection, the Scouts made their packed lunches and we headed off on the days hike at 10:00. The route followed the Raad Ny Foillan from Port Erin, to the Sound and up to The Chasms where we had lunch. We then walked into Port St. Mary and onto Gansey, before finishing back in Port Erin for around 15:30, a total of just over nine miles.
The Scouts still had plenty of energy so we headed down to the beach, where some Scouts actually swam in the sea (for a few seconds). Back at the Scout Hall we had tea followed by a few games outside and then settled down to a movie before bed.
On the Sunday after breakfast kit was packed up and everyone was ready to head off home for 10:00.