The Group Camp was held over the weekend of the 27. – 29. September 2013, at the Crossags Camp Site on the outskirts of Ramsey. This years camp was organised and ran by our AGSL Steve White and members of the Onchan District Explorer Unit.
Cubs and Scouts arrived on the Friday night and were soon organised into tents or the Giant 'Ark' Building and the first activity took place, which was a hunt in a local plantation in small groups looking for laminated flags of various countries, which had been hidden amongst the trees. Once back on site it was time for supper around the camp fire before heading off to bed.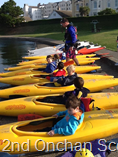 On the Saturday after breakfast and inspection, the Cubs spent the morning at Mooragh Park Kayaking and Raft Building, while the Scouts travelled to the Venture Centre for Archery, Shooting and a go on the Assault Course. After a lunch of baked potatoes with various fillings, we were joined on site by our Beaver Scouts who had travelled up on the tram.  Some of the Beavers we going to be with us just for the afternoon while thirteen were going to camp over night.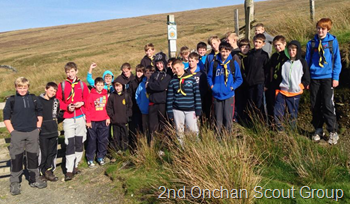 The Beavers and Cubs joined forces and rotated around eight different bases with a variety of challenges. In the meantime the Scouts were transported to the Tholt-y-Will Road, below Snaefell and hiked back to the Camp Site along the Millennium Way, a distance of around 6.5 miles.
We had a barbeque tea, followed by a Scavenger Hunt, the Cubs and Beavers then had a Beetle Drive in the 'Ark' while the Scouts enjoyed a Wide Game on the camp site. After supper round the camp fire, everyone watched a movie in the 'Ark', with most of the Cubs fast asleep by the time it finished.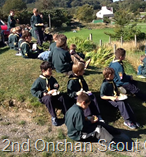 On Sunday, as a treat bacon Sandwiches were served at breakfast and after inspection the Beavers, Cubs and Scouts spent the morning doing a Treasure Hunt around Ramsey and either going swimming or Ten Pin Bowling, while the Explorer Scouts helped to take down tents and clear and tidy the site.
After a picnic lunch, we held Flag Down and the campers walked down to the Ramsey Grammar School to be collected by parents.
We were very lucky with the weather, a little windy at times, but it stayed dry and the sun came out a few times too.
A big thank you to Steve, his Explorer Scouts and Leaders who all did a fantastic job over the weekend and without them the camp wouldn't have been possible.
More photos to follow.