On Saturday 19. May 2018, we are holding a Day Trip to Blackpool Pleasure Beach for all members of 2nd Onchan and members of Onchan District Explorer Scouts. We will be travelling to Liverpool on the 07:45 Seacat to Liverpool from where we will get a coach directly to the Pleasure Beach in Blackpool. Everyone will have around five hours at the Pleasure Beach before we travel back to Liverpool where we will catch the 19:15 Seacat back to the Island arriving at around 22:00.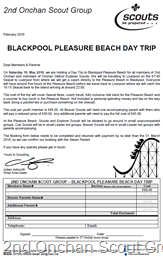 The cost of the trip will cover Seacat fares, coach travel, fully inclusive ride band for the Pleasure Beach and a voucher to buy lunch in the Pleasure Beach. Not included is personal spending money and tea on the way back (bring a packed tea or purchase something on the Seacat).
The cost per youth member is £65.00. All Beaver Scouts will need one accompanying parent with them who will pay a reduced price of £50.00. Any additional parents will need to pay the full cost of £65.00.
At the Pleasure Beach, Scouts and Explorer Scouts will be allowed to go around in small unaccompanied groups. Cub Scouts will be in small Leader led groups. Beaver Scouts will be in small Leader led groups with parents accompanying.
The Booking form below needs to be completed and returned with payment by no later than the 31. March 2018, so we can confirm our booking with the Steam Packet.