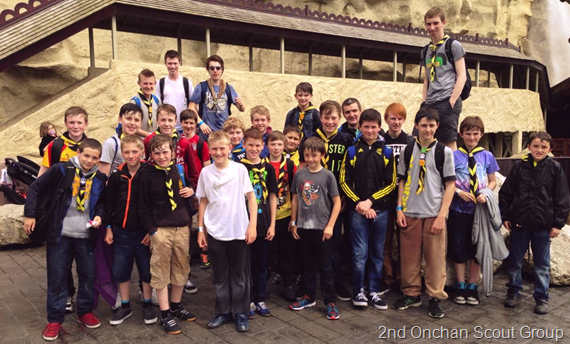 Scouts from both our Troops and members of the Onchan District Explorer Unit, took a trip to Blackpool on Saturday 14. June 2014. It was an early start, with everyone meeting at the Sea Terminal for 06:30. The Seacat arrived in Liverpool on time and we were soon on the coach on our way to Blackpool. We arrived at the Pleasure Beach, just before 11:30, day passes were fastened to wrists and the Scouts split into Groups and then they spent the next four hours going round the various rides. Unfortunately the Pepsi Max, which is a really tall roller-coaster, wasn't working which was a shame, but there were plenty of other rides to keep everyone busy.
At 15:30, we met up and all went on 'Valhalla' together and everyone got a soaking. It was then time to head back to Liverpool and we were back on the boat for about 18:00. Everyone was fed before the seacat left just after 19:00. There was a short break in the trip, while the captain tried to free the boat from a fishing net, but we still arrived back on the Island for 22:00. We were very lucky with the weather as it was warm and sunny all day and the sea crossings were flat calm.
A good day out for all involved. We will have to think about doing the same next year.