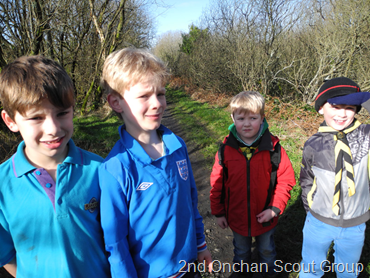 Last weekend, Tuesday and Thursday Beavers completed the 2nd leg of the Three Legs Challenge 2014. Seven Beavers from each Colony joined other Beavers from the Island for the walk from St John's to Crosby along the Heritage Trail. The path was wet and very muddy in places, but the sun came out as the walk got underway.
The Beavers – along with mums and dads, grandmas and granddads, brothers and sisters and dogs – walked the route in about an hour and a half. A great effort – well done!
Four Beavers from the Thursday Colony have now completed all three legs of the 2013/14 Challenge – so very well done to Ryan E., Stephen H., Oscar N. and Dylan T. who have gained their 3 Legs Challenge Badge.