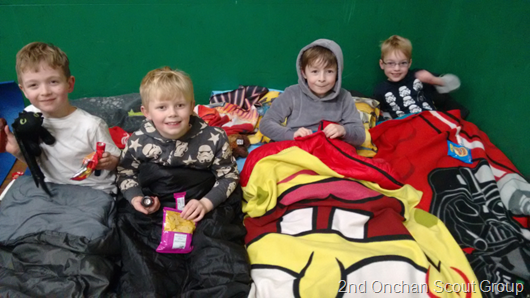 Thursday and Tuesday Beavers held a joint Sleepover on Friday 4 March. Twenty seven Beavers arrived at 7pm and 25 Beavers stayed the night. After a couple of games, to let of some excess excitement, a supper of hot chocolate and biscuits – thanks Juan's mum for the shortbread, it was time for the Movie – Lego Star Wars!
At 11pm it was lights out and the all important sleep – after some giggling and snorting and shuffling around (and that was just the Leaders) things started to quieten down. At 1.30am there were still a couple of Beavers awake, and Leaders – but I am guessing by about 2pm we must have all dozed off.
Some of us awoke, a little chilly at about 5.38am (to be exact)! A relatively good night's sleep for a Sleepover! By 7am most of the Beavers were awake and it was time for a breakfast of cereal and Nutella on toast!
After tidying up bags and bedding, there was just time for a few games before parents started to arrive.
Very well done to all the Beavers and Leaders – and really lovely / successful Sleepover and a great adventure, and £86.80 raised for Guide Dogs for the Blind Isle of Man – so well worth giving up a few hours sleep for.