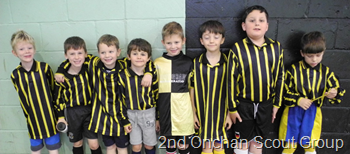 2nd Onchan Thursday & Tuesday Beavers recently took part in the Island Beaver 5-A-Side Football Competition. A total of 9 teams entered, including two from 2nd Onchan Thursday Beavers and one from 2nd Onchan Tuesday Beavers. The teams were divided into two leagues, and then played all the other teams in their league. Tuesday Beavers got off to a fantastic start and were top of the leader board in league 1 after two matches. They got piped into second place by one of the 1st Douglas teams. The Thursday Beavers B Team (Oscar L, Oscar N, Stephen H, Charlie M, Ashton Q, James H, Kian L and Luke A) also played in this league, but despite some brilliant matches, finished a bit further down the table.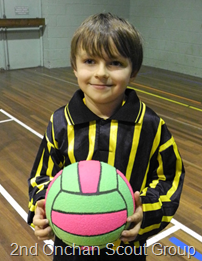 Thursday Beavers A Team didn't get off to a great start in league 2, drawing their first game and only getting 1 point. After a pep talk from Lee they picked up for their next few games, and despite some anxious times, they finished top of the leader board! Before the final took place between the winners of league 1 and 2, there was a penalty shoot out competition against two of our referees – 2nd Onchan helpers Chris and Sam. All the Beavers had the opportunity to take part and were eliminated from the shoot out if they failed to score. The last surviving Beaver – who scored the last penalty, was 2nd Onchan Thursday Beaver – James H. Well done James!!
There was much excitement as the final commenced between 2nd Onchan Thursday A Team (Ben W, Aaron C, Bradley K, Alexander G, Vannin C and Ryan E) and 1st Douglas. The game finished with a 1-1 draw and then went into extra time. Aaron C of 2nd Onchan Thursday Beavers scored the winning goal in the closing minutes – much to the delight of the whole of 2nd Onchan!! Very well done boys – they showed great focus and determination. Needless to say Lee was one very happy coach!!
Thanks to all the parents for supporting this event, but special thanks to Chris and Sam who were referees and match advisors and a real credit to 2nd Onchan!