You are browsing the Blog for Leaders.
December 3, 2012 in Group
February 17, 2012 in Cubs, Explorers, Scouts

We have thirty Cubs, Scouts and Explorers Scouts, together with six Leaders going on the Narrowboat Camp in August.
A couple of weeks ago two Leaders met the Narrowboat owners in Birmingham to have a look at the boats and get some ideas for the programme. Next week all the Leaders will be getting together to get the full weeks programme organised. This will then be published on this website.
We have booked our ferry crossings for the group and on Saturday 4. August 2012, we will be traveling over to Liverpool on the 07:30 Seacat. On Saturday 11. August 2012, we will be traveling back to the Island from Liverpool on the 19:15 Seacat.
We are still sorting out our travel to and from Birmingham and are looking at both coach and train options.
Baggage – As room on the Narrowboats will be quite restricted, we would ask that everyone ensures their kit is in either a rucsac or a soft Holdall, no suitcases please.
February 6, 2012 in Beavers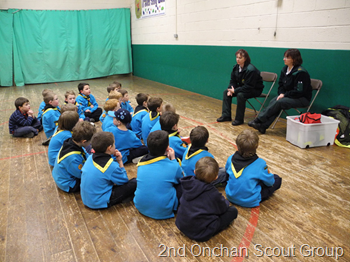 Thursday Beavers recently had a visit from the Ambulance Service. Paramedics – Sammie and Joanne, brought along Alistair the Ambulance and talked to the Beavers about what they do, showed them some of the medical instruments they have in their bags and also let them have a look inside the ambulance. The Beavers were very excited when the lights and sirens went off!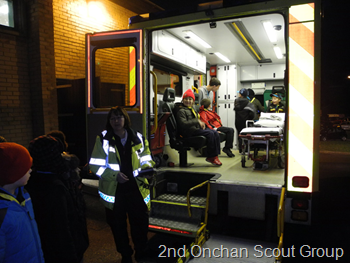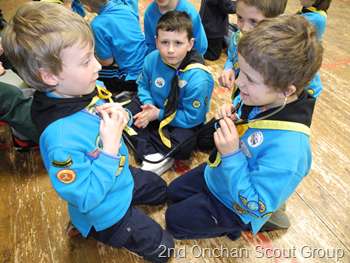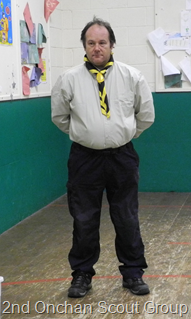 Does anyone recognise our new Leader at Thursday Beavers? He looks familiar and very, very smart!!
January 23, 2012 in Beavers, Cubs, Explorers, Scouts

All members and their parents are encouraged to have contact details for their Section Leaders. This website has an email address for general enquires only and if it is used to contact a certain Leader it might take a while to reach them. Leaders will provide their contact email and telephone details on request, this could be done at a Section Meeting.
Most if not all Sections keep a Mailing List of their members, so that everyone in the Section can be informed of events and activities by email. Members should make sure they are on their Sections Mailing List.