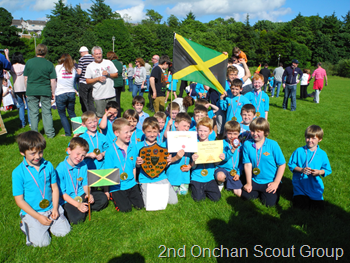 2nd Onchan Thursday and Sunday Beavers took part in the Island Beaver Sports Day, held at Gymn's FC. The Sports Day took on an Olympic theme and each Colony represented a different country. Thursday Beavers were Jamaica and Sunday Beavers were Spain!
Despite some rain showers in the morning, the sun came out, the ground dried up and conditions were near perfect. With a brilliant turnout of 22 Beavers and two weeks of training – 2nd Onchan Thursday Beavers came in a fantastic FIRST (out of 11 Colonies)! Beavers took part in running races, the egg and spoon, the sack races, skipping, ball and cup races and the space hopper races, finishing with the running relay and the infamous water relay– it was a great result and all the team did their best!
Just two points behind 2nd Onchan Thursday Beavers were 2nd Onchan Sunday Beavers. Sunday Beavers had a turnout of just 7 Beavers meaning they were all kept busy for the afternoon! The final event – the water relay – made all the difference to Sunday Beavers where they came in second place – giving them valuable points and moving them up to second overall position – another great result from 2nd Onchan!