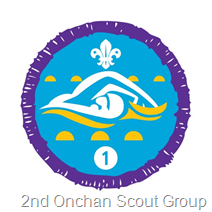 On 8 April 2017 Beavers, Cubs and Scouts from 2nd Onchan Scout Group had the opportunity to complete one of the staged swimmer badges from levels 1 to 5.
The Group were able to hire out Ballakermeen Swimming Pool for the afternoon and using staggered start times the Scouts could pick which level they wanted to go for and turn up at the applicable time. There were lots of members going for every stage of the badges with 3 Scouts going for the gruelling Stage 5 which included a 1,000 metre timed swim using 4 different strokes, 5 minutes treading water with one arm in the air for 3 minutes and a swim in additional clothing.
All Beavers, Cubs and Scouts successfully achieved the level that they individually went for with enough time at the end for some water polo and some fun with the floats and other pool equipment. Well done all!
A big 'Thank You' to Alex, Ash, Dan and Rob for running the sessions and to Macklin our lifeguard.