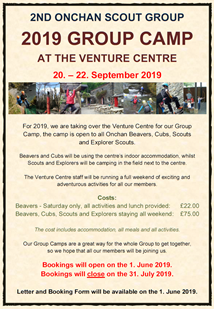 For 2019, we are taking over the Venture Centre for our Group Camp, the camp is open to all Onchan Beavers, Cubs, Scouts
and Explorer Scouts.
Beavers and Cubs will be using the centre's indoor accommodation, whilst Scouts and Explorers will be camping in the field next to the centre.
The Venture Centre staff will be running a full weekend of exciting and adventurous activities for all our members.
Costs:
Beavers – Saturday only, all activities and lunch provided: £22.00
Beavers, Cubs, Scouts and Explorers staying all weekend: £75.00
The cost includes accommodation, all meals and all activities.
Our Group Camps are a great way for the whole Group to get together,
so we hope that all our members will be joining us.
Bookings will open on the 1. June 2019.
Bookings will close on the 31. July 2019.
Letter and Booking Form will be available on the 1. June 2019