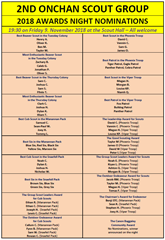 The 2nd Onchan Awards Night is being held on the 9. November 2018, at the Scout Hall. All members and their families are welcome to attend.
The nominations for Awards for our Beavers, Cubs and Scouts have now been released, you can download a copy of the nominations here.
Other badges and awards may well be presented during the evening.
Our annual Awards Night is a great evening and the Scout Hall is always packed out, so make sure you get your seats early.
In past years we have shown the Oscar Ceremony how to run things!