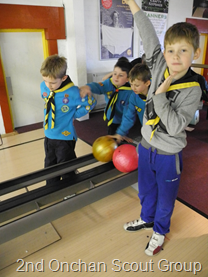 Over the weekend, 11 of the Island's Beaver Colonies took part in a Ten Pin Bowling Competition at Sure Strike Bowling & Leisure Centre in Ramsey. There were individual trophies for the Best Beaver – Under 7 (which went to Laxey) and the Best Beaver 7 & Over which went to William C. of 2nd Onchan Tuesday Beavers. There was also a Colony trophy for the highest average score per Colony – which also went to Laxey.
Eleven Thursday Beavers and 15 Tuesday Beavers took part in the competition. The boys did brilliantly and really enjoyed themselves. William C from Tuesday won the 7 & Over – Well Done! Ben B from Thursday came 3rd in the same category. George from Tuesday was 7th in the 7 & Under age group, and Finley M from Thursday came 6th – well done boys!
Thursday Beavers were piped into 3rd place in the overall scores, with Tuesday coming a very respectable 7th. Well done to everyone who took part.