CHIEF SCOUT'S BRONZE AWARD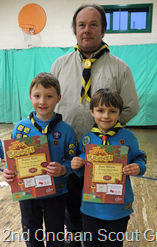 This week two of our Beavers gained their Chief Scout's Bronze Award. This prestigious Award can only be achieved by Beavers who have completed all six of their Beaver Scout Challenge Awards (Promise, Friendship, Fitness, Creative, Global and Outdoor). It can take up to two years to complete these challenges and these Beavers have worked hard to make this happen, completing activities at home when necessary. So massive congratulations to Bradley K and James H.
MOVING ON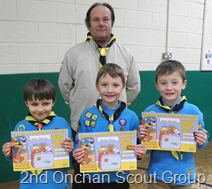 Thursday Beavers have reached the end of yet another term – which means it is time to say goodbye to some of our older Beavers who have reached the age of 8 and are ready to move on to Cubs. Aaron C, Bradley K and James H all received their Moving On certificate and badges, and are all going to Manannan Cubs. We have really enjoyed having the boys in Beavers. They have all been well behaved and enthusiastic and we will miss them, but wish them all the very best at Cubs.