You are browsing the Blog for Group.
April 22, 2013 in Beavers, Cubs, Explorers, Group, Scouts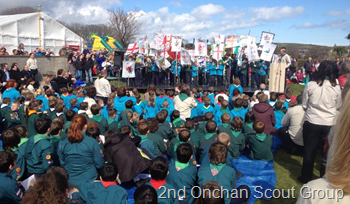 The annual all Island St. George's Day Parade & Service was held on Sunday 21. April 2013. This year the event was organised by a small team of 2nd Onchan Leaders. The centre of Onchan came to a standstill as around 700 Beavers, Cubs, Scouts, Explorers, Network and Leaders led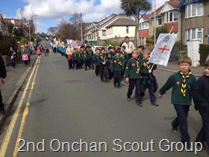 by Onchan Silver Band paraded down School Road, along Main Road down Royal Avenue and onto Royal Drive, where they passed the saluting base manned by the Island Commissioner, the Island President and the Patron of the Scout Association – Isle of Man the Lieutenant Governor Adam Wood. Once in  Onchan Park, the Service was held in front of invited guests and hundreds of parents. A short play depicting the story of St. George and the Dragon was put on my member of 2nd Onchan and the prayers were also led by the Group. All members of the Association renewed their Promises during the Service. The many Banners were judged by the Governor and the winners of the Victor Kneale Trophy were 1st Ballaugh. After the parade everyone got to go on the parks attractions at reduced prices courtesy of Onchan Commissioners.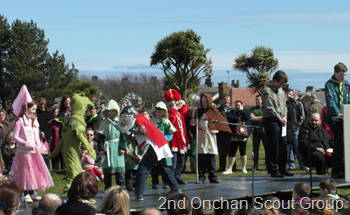 As organisers we would like to thank all Island Groups for a fantastic turn out. The Scout Band who played so well, the members of the Group who who performed or read prayers, the local police for running the rolling road closure, Onchan Silver Band who provided the parade music, Onchan Explorer Scouts for doing so much and off course the Leaders of 2nd Onchan who have been working so hard to make the day a success.