July 21, 2013 in Group by admin
MOVING ON
Thursday Beavers have reached the end of yet another term – which means it is time to say goodbye to some of our older Beavers who have reached the age of 8 and are ready to move on to Cubs. Our twins – Lee C & Alex C, George C, Oscar L and Reece L all received their Moving On certificate and badges, and are all going to Manannan Cubs. Charlie M also received his Moving On certificate and badges, and he is going to Snaefell Cubs. We have really enjoyed having the boys in Beavers and can't believe it is time for them to go to Cubs already! They have all been well behaved and enthusiastic and we will miss them, but wish them all the very best at Cubs.
CHIEF SCOUT'S BRONZE AWARD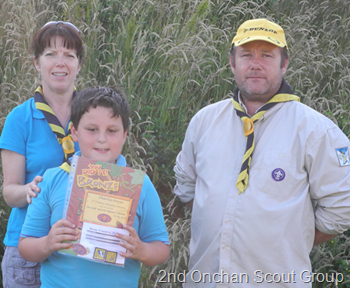 This week one of our Beavers gained his Chief Scout's Bronze Award – Charlie M. This prestigious Award can only be achieved by Beavers who have completed all six of their Beaver Scout Challenge Awards (Promise, Friendship, Fitness, Creative, Global and Outdoor). It can take up to two years to complete these challenges and Charlie has worked really hard to make this happen, completing activities at home when necessary. So our massive congratulations go to Charlie!
SHIP SHORE CHAMPION 2013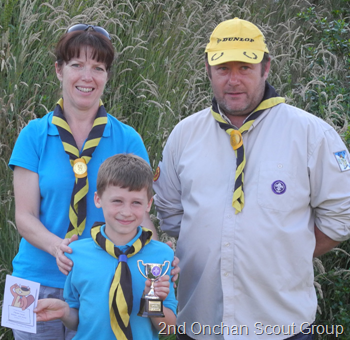 Thursday Beavers always start their meetings with a game of Ship Shore. This term we decided to make it even more competitive and keep score of the top three in each game. Points were awarded and totalled up over the term. In third place was Ryan E, in second place was Harry C, and our first Ship Shore Champion 2013 was Oscar L! All three received a certificate of congratulations and Oscar received a small trophy. Well done Oscar!
CHIPS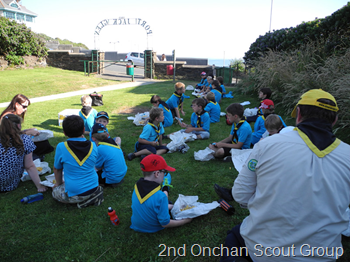 As it was our last meeting before the Summer Holidays, Thursday Beavers walked from the Scout Hall to Port Jack Glen, where they enjoyed some chips! It has been another fantastic year of Scouting for Thursday Beavers – our Movie Night/Sleepover and winning the Beaver Football Competition in November 2012, coming runners-up to Tuesday Beavers in the Beaver Bowling Competition in March 2013, taking part in the St George's Day Parade & Service in April 2013, meeting the Chief Scout Bear Grylls in May 2013 and winning the Beaver Sports Day Competition last month! We have awarded lots of activity and challenge badges which the Beavers have to work very hard for, as well as a number of Chief Scout's Bronze Awards. Thanks to the lovely weather we have been able to get outside a bit more this year too. Our thanks go to everyone who has helped and supported us through the year. Hope you all have a fantastic summer – Steve, Lee and Jackie.